REVIEW: Super HD by Cellucor
According to Cellucor, their vision is to create the most remarkable sports nutrition brand in the world. And if Super HD was a sign of whether or not they're on the right track, I'd have to say that they're full steam ahead on that yellow brick road.
Super HD is a powerful fat burner that will stimulate both your body and mind. After months of tweaking and retweaking, their final formula is perfectly balanced with a blend of fat burning herbs, caffeine and B vitamins to deliver a "feel good" weight loss supplement.
My husband and I started taking it about 4 weeks ago and we both have so far seen some great results. I've slimmed my physique incredibly and my husband lost 5 lbs in the first week without tweaking any part of his workout routine or diet (he works out 4x/week). Literally every one of my online clients have lost anywhere from 4-8 pounds in the first 6 days combining Super HD with a healthy, balanced diet and exercise.
Cellucor claims that Super HD delivers powerful energy, focus and mood enhancing blends, and holy crap – it does. It is by far my favorite thermogenic weight loss supplement out there right now.
WHAT ARE THE INGREDIENTS?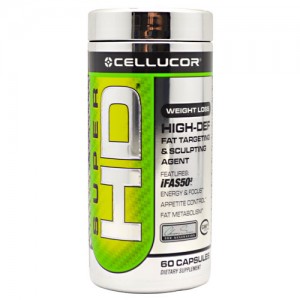 Thermo Sculpting Blend breakdown:

Camellia Sinensis Leaf Extract  is the extract of  leaves and leaf buds are used to produce teas, but most notably – green tea. As we know, green tea can help facilitate weight loss, slow the aging process, lower cholesterol, regulate blood sugar, control inflammation, boost the immune system, and so much more.
Tuber Fleece Flower Root Extract helps protect the liver and has anti aging properties.
Chinese Mistletoe Stem Extract can have a calming effect and stimulates the immune system. It is also a diuretic to help eliminate excess water.
Rhodiola Rosea Root Extract is used for increasing energy, stamina, strength and mental capacity. This root also helps the body adapt to and resist physical, mental and environmental stress.
Amla Fruit Extract can help with digestion of foods by helping the body absorb more vitamins from the foods we eat. Some also believe that diabetes and high blood sugar can be controlled using this extract.
Dandelion Root Extract acts as a mild diuretic, detoxifies the system, and helps maintain a healthy heart.
Pausinystalia Yohimbe Extract has been used in body building and athletic performance. It can help improve symptoms of depression and dry mouth as well. It can also help increase sexual drive as it is considered an aphrodisiac.
Capsaicinoids and Red Pepper Fruit helps speed up your metabolism by acting as a thermogenic (raising body temperature).
Evodiamine 98% raises body temperature, aids in weight loss, has anti inflammatory and diuretic properties, lowers blood pressure and raises body temperature which in turn helps with burning calories.
Rauwolfia Extract helps to treat high blood pressure and mild cases of anxiety and nervousness.
It also contains 10mg of niacin and 160mg of caffeine per 1 pill. Too much niacin can cause itchy skin and red blotches and too much caffeine can cause anxiety and sleepiness, so only take the suggested recommended dose.
For $1.50 a pill, you can turn your dollar menu item in for something that works in line with your goals, not against them.
Price:  8/10

Not the cheapest, but I've bought more expensive ones with less results. The old adage is true: You get what you pay for! BUT, you will receive 20% off of your entire order by visiting www.cellucor.com and using Discount Code: CFIT before checkout – well worth it!

Energy: 10/10

Although Super HD isn't labeled an energy pill, I can't help but to include this rating. The caffeine, B vitamins and other energy boosting herbs provide a very "flowing" raise in energy levels without jitters.

Effectiveness:  9/10

Does what it claims – clean energy, focus, appetite control and most importantly – weight loss.

End Results: 9/10

After a whole bottle, with moderately clean eating and weekly exercise, our results were better than we expected with Super HD.

Overall Value: 9.0 / 10
Pros:
Real weight loss
Increased energy and focus
Appetite control
Mild diuretic which lessens water retention
Mild increase in sex drive (yohimbine)
No mixing, no drinking, only 2 to 3 capsules per day, depending on tolerance level
Cons:
Mild sweating / perspiration was experienced
In Conclusion:
I honestly am floored at how well this supplement works. It has a perfect balance of ingredients that proves Cellucor's dedication to their mission of being the most remarkable sports nutrition brand in the world. It simply does what it claims it does. It absolutely helps with weight loss and even includes some unmentioned benefits – my husband and I both experienced improved overall mood and an increased sex drive. 🙂
*** You can purchase SUPER HD by Cellucor by going to www.cellucor.com and using Discount Code: CFIT for 20% off your entire order, plus FREE shipping!!!!****
As with any review, the above expressions do not represent facts… rather, my opinions and personal experiences. Your results may vary and there are no guarantees to the effectiveness of any product that I review.
Directions For Super HD: As a dietary supplement, begin by taking one serving (1 capsule) in the morning on an empty stomach and one serving (1 capsule) 5-6 hours later in the mid-afternoon to assess tolerance. If well tolerated, an additional capsule may be added to the morning serving for a total of 3 capsules per day. DO NOT EXCEED MORNING SERVING SIZE OF ONE CAPSULE FOR THE FIRST SEVERAL DAYS OF USE AND UNTIL TOLERANCE IS ASSESSED. Do NOT Exceed 3 Capsules in a 24 hour period. Drink plenty of water throughout the day to avoid dehydration.
Super HD may be taken for up to 8 weeks but should then be discontinued for a minimum of 4 weeks.
Warnings: Do not use if pregnant or nursing. This product is only intended for healthy adults, 18 years of age or older. Before using this product consult with your physician if you are using any prescription or over the counter medication of if you have or suspect you have any pre-existing medical condition including but not limited to: high or low blood pressure, cardiac arrhythmia, stroke, heart, liver, kidney or thyroid disease, seizure disorder, psychiatric disease, diabetes, difficulty urinating due to prostate enlargement or if you are taking a MAOI (Monoamine Oxidase Inhibitor) or any other medication. Discontinue use and consult your health care professional if you experience any adverse reaction to this product. Do not use if safety seal is broken or missing. Store in a cool dry place. Keep Out Of Reach Of Children.
* These statements have not been evaluated by the Food and Drug Administration. This product is not intended to diagnose, treat, cure, or prevent any disease.
Talk soon!