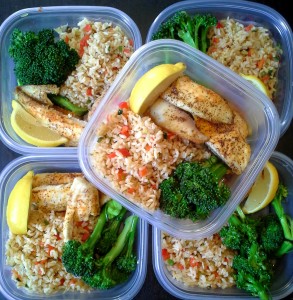 Does the thought of meal prep overwhelm you? With how busy life can be, I totally get it and that's why I want to help you.
I'm here to give you some practical tips that will: 
Help you save time
Give you more variety with meals so you don't get bored
Show you how to prep and cook multiple things at the same time
Taking the time to prepare healthy meals ahead of time is more important than you may think – especially if you answer "yes" to any of these.
Do you have a hard time getting enough calories at the end of the day?
Are you trying to put on muscle but fall short with getting in enough quality macros?
Do you feel like you're always hungry at work and you get easily side tracked by temptation?
Are you always buying fast food and spending too much money because you get too hungry and have nothing healthy to grab immediately?
It's SO easy to get off track, so lets get you ON track!
A few kitchen supplies you'll need:
foil
pan spray (olive oil or coconut oil)
seasonings, herbs, etc.
a scale
measuring cups
tupperware and/or Ziplock bags
and plus your food! 🙂

Here are my top 7 tips that will add variety to your meal prep and cut meal prep time down –
1.) Make mornings easier by making five jars of overnight oats for the week ahead! There are dozens of recipes online to choose from and having breakfast practically already made for you in the morning cuts that part of thinking out. No more grabbing a Fiber One bar on the way to work to hold you over.
2.) If cereal is your thing, portion out the amount you eat and place it in a ziplock baggy or tupperware. Just add milk in the morning and you're good to go!
3.) When it comes to meat (protein), for instance, choose three different flavors and bake out a big batch all at once. My favorite would be a hot sauce, bbq and mustard sauce. You can also play around with different herbs and spices (I love and use Spains Spices on mine). Instead of making one batch of the same flavor, add a variety of flavors to keep things 'spicy'!
4.) *While you're baking your meat in the oven, throw some sweet potatoes or baked potatoes and asparagus and brussels sprouts in there too (as long as you have room).
5.) While you have food in the oven, you can cook quinoa and rice on the stove top! This way you have three different carbohydrate options for the week! Other healthy options could be brown rice pasta or couscous.
6.) Another great way to cook vegetables is by sauteing them in oil and garlic in a pan or steaming them. The beauty about this is you can do all of these things at the same time!
7.) If you have mason jars, throw your favorite salad dressing on the bottom, your toppings in the middle (such as tomatoes, cucumbers and onions) and last put your fresh organic greens on the top. When it's lunchtime all you need to do is shake it, open the top and chow down.
*All of the foods in number 4 can be cooked together at 350 degrees. Line a flat pan with foil, spray it with olive or coconut oil, and then place the chicken on it. Wash your potatoes and simply wrap them in foil and place them in the oven. With the vegetables, same thing as the meat – line a flat pan with foil, spray it down with oil and spread out your vegetables. I love putting olive oil, minced garlic and Himalayan salt on my vegetables – that's it.
All of this shouldn't take you more than two hours from start (measuring) to finish (packaging).
I suggest including:
two to three different proteins cooked for the week like chicken breast, ground turkey/beef and white fish or salmon
three carbohydrate options like potatoes, rice and pasta
three vegetable options like asparagus, green beans and brussels sprouts
Keep your food in their own separate containers (like your rice in its own tupperware, asparagus in its own tupperware, etc.) and place your meals in a tupperware bowl the night before or just go ahead and portion out all of your meals for the week ahead as soon as you're done prepping (your protein, carbohydrate and vegetable together in a tupperware).
The first option allows you to pick and choose what you're feeling the next day and the second option kinda forces you (for lack of a better word) to have what you laid out a few days ago.
If you would like me to prepare a meal plan for you that includes your grocery list items, a 6 page macro and calorie food item list, your personalized calorie intake and macro intake and both a high carbohydrate and low carbohydrate meal plan, click here: http://www.christinasfitness.com/mealplan and fill out the questionnaire.
If you have any questions or advice I'm all ears – email me!
Christinasfitness@yahoo.com