Six Month Explant Surgery Post-Op Update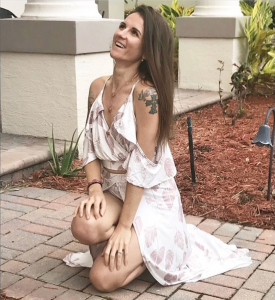 Let me just start off by saying….. what an incredible and miraculous six months it has been!
If we've just met and my Breast Implant Illness story is new to you, I highly suggest that you read this first and then come back to this blog.
Where to start, where to start.
Before I get into what's improved, I feel the need to say a few things.
Explanting saved my life and my relationship. 
For the last seven years, since I chalked up my chronic fatigue and brain fog to being a new mom.
I was living in a state of survival and not by any means thriving or living up to my highest potential… in any area of my life.
I knew I had greatness in me and that I was meant for BIG things in this lifetime, but my lack of energy and focus always got the best of me.
If you are considering breast implants
If you have breast implants and feel off or like somethings not right with your body
Please download the guide I put together for you, Discovering Breast Implant Illness – What Now? 
Included in this guide are a long list of symptoms that you should look out for, that tens-of-thousands of us have experienced, such as:
brain fog and memory issues
chronic fatigue
low libido
vision issues/eye floaters
joint pains
gasping for air/shortness of breath
massive hair loss
anxiety/panic attacks out of nowhere
depression/suicidal thoughts
heart palpitations
gut and digestion issues/food intolerances
thyroid issues
immune system issues/always sick
weight gain
insomnia
Now as far as my symptoms, you're not going to believe this.
ALL my symptoms are GONE.
Not just better or improved… G.O.N.E.
Over the last six months I did have two "flare ups". One from seven – 12 weeks post-op and another one just last week for only six to seven days (I was losing my hair again, gasping for air and having breakouts).
After you explant this is totally normal and to be expected.
Your body is going through a lot of healing, repairing and detoxification, ups and downs. Be patient.
And don't be too alarmed with how your breasts look immediately after you explant. They are going to change shape so much over the months. Mine "fluffed" out around four months. So instead of having sisters they now look more like twins.
On a day to day basis I feel like a brand new woman in a brand new body.
I have so many things I want to create and build, explore and seek – and I have the energy and motivation to do it.
I'm excited for the future again!
My relationship is better, my business is better, my health is better – and the only thing I changed was I took two toxic foreign objects out of my body.
I do need to acknowledge and give a huge thanks to Dr Dev from Aqua Plastic Surgery in South Florida. Him and his entire team is amazing. I wrote about my experience with him here.
If you're waiting to explant, I'm here for you.
If you just discovered Breast Implant Illness and feel overwhelmed, scared and nervous, I'm here for you.
Please don't hesitate to reach out to me by email at: Christina@SizeHappy.net or message me on social media.
Back in September 2018 I decided to create a community on Facebook where women just like me could gather, feel supported and heard and find answers and solutions. Breast Implant Illness Rejuvenation and Education With Christina is my baby… it's where I feel safe, validated and understood. It's where I can bond with and encourage other women who are going through this journey wit me. I'd be honored if you'd join us! I go Live every Monday to be of service to you and answer your questions because I truly care so deeply for my community and members and just want you to know that you're loved, fully supported and that everything will be ok.
If you're on Instagram, I have an account solely dedicated to Breast Implant Illness and my explant journey – @IamSizehappy. Follow me here!
What it comes down to is that EVERYTHING has changed!
And not just with my body.
My attitude, perspective, personality, excitement for the future, my circle/tribe, ambition, goals – everything.
And all for the better.
Oh, and if you're wondering "are you happy with your results?" and "do you regret anything?"
The answer is: heck yes and heck no!
I will take being healthy and happy any day over looking ("womanly, attractive").
This is the core message behind Size: Happy. ♥️
here's to health, self-love and high vibes,
Christina