Week 15 Challenge – The At Home Work Week!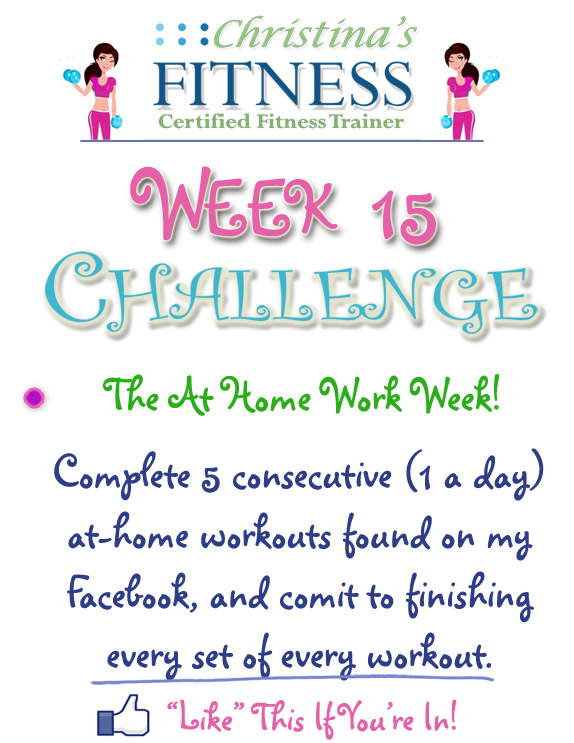 This weeks challenge marks an exciting time for Christina's Fitness. This week, I launched my at-home workout series on my Facebook page, posting 1 workout a day that can be done at home with everyday household items like jugs of water, bricks or even grocery bags filled with dirt. Combine just a few of these workouts, and you'll have a very good at home workout session!
This week, it's all about proving to yourself that you don't need a gym to get a great workout in. This week is about proving to yourself that all you need is the knowledge, some willpower, a little support – and you can get it done.
I'm here to provide the knowledge and support – the willpower is going to have to come from within.
Below is an example of one of my at home workouts: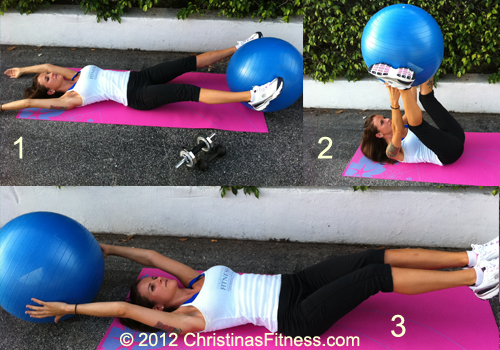 For this example, you'll need a fitness ball. You can find one at Walmart for about $10 and it is an absolutely wonderful investment to make for at home workouts. To complete this workout example, follow these steps:
Lay flat on the ground, arms behind your head, with a ball between both feet.
Simultaneously, lift the ball and your arms up, and grab the ball with both hands.
Take the ball and extend it behind your head, lowering your legs at the same time.
Simultaneously lift the ball and your feet up again, this time grabbing it with your feet.
This is one rep. Do at least 3 sets of 15-25 reps.
To see more, hop on over my Facebook page. If you haven't already liked it, go ahead and do so now so you'll have access to all the weekly goodies – including weekly challenges, exclusive recipes, exclusive giveaways and (you guessed it!), at home workouts!
Click here now and hit the "Like!" button to join this weeks challenge. Introduce yourself by asking me any fitness question you might have – I am on several times a day and will be more than happy to answer any and all questions thrown my way!