Week 12 Challenge – Eating In To Increase Your Assets!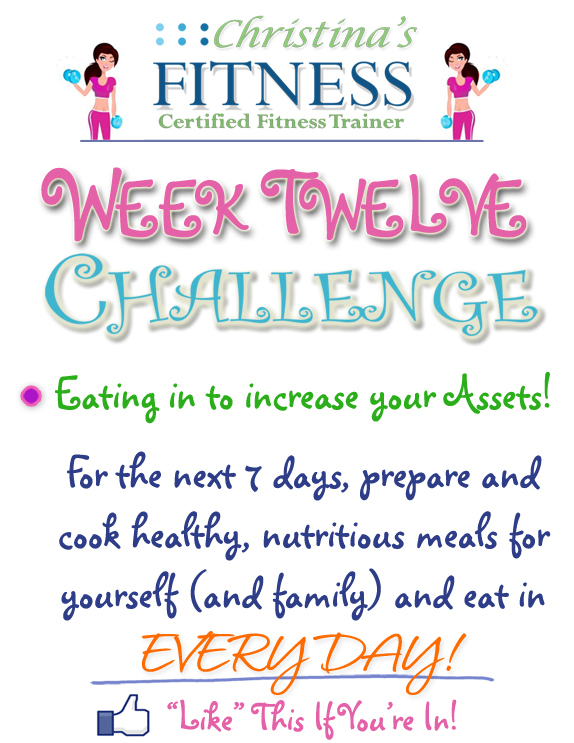 Week 12 is upon us and with that a challenge that is sure to challenge even the most challenge-hardened veterans! 🙂
Once again, we stray from a fitness-oriented challenge and instead opt for the nutrition and lifestyle-change challenge this week. Eating out is a favorite past-time for many, many people – including my hubby and I. I stand side by side with you in this challenge, and I must say – it's a tough one for some of us.
Eating out isn't always unhealthy – there are many healthy options out there, and with the advent of several smart phone apps and websites available for nutritional reference, a tech-savvy restaurant patron can surely make a healthy choice — but it's not always this simple. And this week, it's not about eating out, AT ALL.
This week is all about eating in. It's about finding the resources to not only become healthy, but self-sustainably healthy. And I'll bet my entire monthly advertising earnings on this website that if you learn more about *effective* eating-in habits, you'll make better choices when you do dine out (and perhaps even think, "I could've made this for so much less money!").
If you're wondering if whether or not you'll get healthy recipes this week – well simmer down now! They're coming straight from my own personal meal plans. 🙂 If you're participating in this challenge at a later date, these recipes can be found by clicking here or by navigating to "Healthy Recipes" at the top of this website. They will first become available on my Facebook page and then will be available here on the website after June 24th, 2012.
Why Eating In Is Good:
You can control portions on literally everything you prepare
You save money
Your general health improves with improved nutrition and eating habits
You get quality family time
You reduce temptation (appetizers, alcohol, desert, comfort foods)
You know what you consume
You can cater to dietary needs (food allergy, reduced sodium regimen, etc.)
You teach your kids good eating habits
Offers more of a sense of satisfaction by being a provider of good nutrition
You can avoid high fructose corn syrup and other good-for-nothing popular toxins all together
You can choose the source of your food (local, regional, etc.)
Bad Examples of Eating In:
Processed fast-prepared foods such as mac-n-cheese, canned ravioli, hamburger helper, etc.
Anything microwavable (usually contains obscene amounts of sodium)
Eating frozen vegetables packed with sodium, butter and fat
Ordering to-go or delivery such as pizza, Chinese food, etc.
Preparing lots of canned goods (usually higher in sodium)
Loading unhealthy condiments on home-cooked foods (loaded baked potato for example)
Not exercising sound portion control
Drinking beer or alcohol with your meal
Remember this – too many people spend so much time "watching their health," that they have no time to enjoy it. Enjoy your good health by changing your life-style and you will no longer "watch your health." You will simply live a healthy life without having to go out of your way to try. Eating in is a great step in the right direction – knowing what you're consuming and controlling your portions is critical in maintaining a healthy lifestyle.
As always, this week is accompanied by tons of support over on my Facebook page – click here to join in now and ask any questions you may have!
Talk soon,