Toxic Chemicals Found On All Breast Implants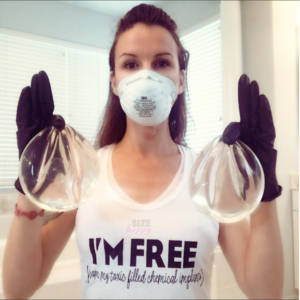 Regardless if you have silicone or saline breast implants, it's actually the shell that is full of toxic chemicals – not just what's inside.
I often hear, "but I have saline implants".
Unfortunately, saline have their own issues and risks.
I've seen a dozen saline breast implants online that are infiltrated with mold (Google "moldy breast implants"). Not only do those with saline breast implants have to worry about potential mold, they also have to also be concerned with what the shell is made of.
"Implants are safe".
Not so much.
Here's A List Of All The Known Toxic Chemicals Found On The Shell of All Breast Implants:
*don't ask me what any of these things are lol
2-Hexanone
Acetone (neurotoxin)
Amine
Benzene (carcinogen and neurotoxin)
Chloromethane
Color Pigments as release agents
Cyclohexanone (neurotoxin)
Denatured Alcohol
Dichloromethane (carcinogen)
Dimethylsiloxane is the building block for most medical grade silicone products, including breast implants https://emedicine.medscape.com/article/1275451-overview
Ethyl Acetate (neurotoxin)
Ethylene Oxide (carcinogen)
Epoxy Hardener 10 and 11
Epoxy Resin
Formaldehyde (oh em gee)
Heavy Metals (aluminum and platinum) aka brain destroyers
Hexon
Isopropyl Alcohol
Lacquer Thinner (what!?)
Lead Based Solder
Metal Cleaning Acid (huh?)
Methyl 2-cyanoacrylate
Methyl ethyl ketone (neurotoxin)
Naptha (rubber solvent)
Oakite (cleaning solvent)
Phenol (neurotoxin)
Printing Ink (why?)
Polyvinyl Chloride (neurotoxin)
Silica
Silicone
Sodium Flouride
Stearic Acid
Talcum Powder (Um?)
Thixon-OSN-2
Toluene (neurotoxin and carcinogen)
Urethane
Xylene (neurotoxin)
Zinc Oxide (sunscreen ingredient?)
Well the only thing that did typing this list out was perfecting my spelling of the words "neurotoxin" and "carcinogen".
I'm not a chemist, but I am pretty smart. I really don't think ANY of these should be inside of our body. 🤔
From what I understand these chemicals are what make up the OUTER SHELL OF ALL breast implants – saline and silicone. If I find out otherwise I'll come back and edit this.
Pretty crazy that "they" would tell us something with this many chemicals is safe to implant inside of our body?
I wouldn't even drink, wash my hair with, breath in or rub any one of these chemicals on my skin… let alone put all of them inside my body for YEARS.
You be the judge. ♥️
Join my growing community and Group on Facebook, Breast Implant Illness Rejuvenation and Education By Christina
Not on Facebook? JOIN ME ON INSTAGRAM!
– Christina Dennis