Something I Got Back After My Explant That I Didn't Realize I Lost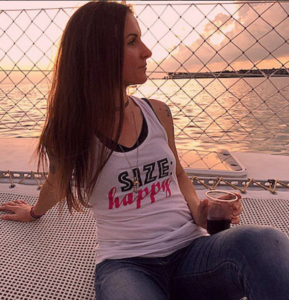 Today is Thursday October 18, 2018 and I'm 11 weeks post-explant.
As each week passes me by I'm realizing more and more just how ill I was.
Since 2014, when all Hell broke lose, I've been miserable.
Over the last four years I've unknowingly just got used to feeling like crap on a daily basis.
From the debilitating fatigue, brain fog, anxiety and depression bouts and hip pain, to the clumps of hair loss, rapidly declining vision and non-existent libido, I learned to live this way.
Now that I can look back, gosh. I was not living life to the fullest.
I lost my personalty and I didn't even realize it. 
When I had my breast implants I was so boring, lazy, tired, unmotivated, grumpy and low vibe.
And that's how some of my closest friends referred to me, too. That stung.
Now, 77 days after my explant, I'm anything but those things.
I wake up excited for my day, not foggy and irritable.
I can't stand laying around on the couch anymore watching life pass me by, endlessly scrolling social media, vicariously living through everyone else's life.
My mental and physical energy is through the roof and even-keeled.
I'm now noticeably happier, funnier, wittier, sassier, bubblier, more energetic and confident and a blast to be around. 
Sometimes I even surprise myself with my rediscovered personality!
I honestly feel like a new woman with a new body living a new life.
Looking back at these last four years, I chalked everything up to being unhappy with how things were going in different areas of my life. I blamed my symptoms on competing in fitness competitions, the Epstein Barr Virus, my thyroid and being a busy mom.
I was made to believe that my mental health issues and physical pains were related to stress and my age.
Here I was searching for all the answers and solutions outside of me when all along it was what was inside of me that was causing me angst and misery. 
👸🏻I'm baaaack, bishes. 
That's how I feel 🙂
I had no idea that I lost myself… but I'm freaking so grateful she's back.
I'm tearing up just writing this.
If you're going through your own personal Hell right now, you're going to be fine.
You're tougher than you give yourself credit for.
You can handle this.
Everything from your physical symptoms, diagnoses and personality will improve after explant – I can almost guarantee it.
Since I've explanted I've been putting in approxamently 30 hours a week towards educating women about:
the possible risks associated with breast implants

Breast Implant Illness

the explant process

pre and post op care

how to deepen their self-love, increase their confidence and start loving and embracing their new beautiful body

ways to heal on a mind-body-soul level
You won't find me sitting back in silence, now that I've explanted, just watching thousands of women get breast implants without knowing the potential risks.
I'm fully dedicated to this cause and mission and educating the masses.
If you're on Facebook, join my Group: Breast Implant Illness Rejuvenation and Education With Christina
If you're not on Facebook, find me on Instagram!
here's to renewed health, rejuvenation and massive self-love,
❤︎ Christina Roulund-Dennis