Seeing Your New Breasts For The First Time After Explanting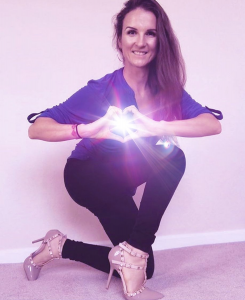 No matter how confident and secure you are in your relationship or with your body, the thought of getting an explant and going back to a smaller breast size is scary.
"Will I be completely flat?"
"What if I end up deformed or misshaped?"
"What if I have big scars that never go away?"
I'd like to think that I'm a pretty secure woman who is confident and happy with her body, but we all have our moments.
Yes, even Beyonce and J Lo.
In this blog I want to share with you my perspective and give you some things to think about when it comes to your new breasts.
When I decided to explant I knew I'd be small because I have very little breast tissue and my skin is thin, both due to breast feeding my son for four months.
Honestly, I expected to be flat… and I was perfectly ok with that if it meant getting my health and life back.
My health, family, happiness and quality of life are what's most important to me… not the size of my breasts.
Sometimes we have to make sacrifices and decisions that just don't seem fair. And this was definitely one of those times.
I had to stop fronting, get really honest with myself and ask: Would you rather have these big breasts that are potentially making you ill and continue to live a mediocre life, or are you ok with having smaller breasts and living a freaking epic life? – you can't have both.
Not in my case at least.
For me it was an easy decision!
I was willing to lose a physical (foreign) part of myself if it meant the emotional, mental and spiritual side of me would flourish and shine bright again.
And boy has it been!
I was glad to trade my breast implants and have some pretty scars for a brand new life full of unlimited happiness, health, success and adventures.
Ultimately I was done with the days of:
laying around, doing the bare minimum each day just to get by.
never wanting to do anything with my family because I didn't have the energy or desire to.
watching everyone around me grow their businesses and succeed in life.
feeling like I was lazy, when I knew in my heart I am a very driven, ambitious woman.
No regrets. Not a single one.
Smaller breasts do not mean you're any less of a woman, less worthy of love, less deserving or less attractive. I don't give a flying flip what society or trolls on the internet try to tell you.
You're beautiful just as you are. Your breasts do NOT define you.
And you wanna know something crazy? I am a more confident woman standing here before you today than I ever was with my breast implants.
I mean, I got breast implants because I wasn't confident in the first place. You know?
Not only did I explant because I wanted to feel alive again, I explanted (without hesitation) because I now realize wholeheartedly that confidence does not have anything to do with a body part. Plus I'm a health coach and it felt so out of alignment to be teaching someone how to be healthy when I'm sitting here with two toxic foreign objects implanted inside of my body for the sake of vanity.
I was not being a good example of true health and loving your body as it is. That's how I felt inside and I hated it. Alignment is everything to me
From my own personal transformation and in my own opinion, confidence stems from taking your power back, setting firm boundaries with everyone close to you, knowing and realizing your worth and falling madly in love with every inch of yourself despite what anyone else says or thinks about you.
What to expect after surgery and some of my best self-love advice
When you first get out surgery you're going to look down and things are going to look smushed and wrinkly. This is totally normal, don't worry!
How you look on day one is not how you'll look on month one or  year one. Let your husband know…
After your explant you're going to feel so much better that your new breast size won't matter at all (at least this is what I'm hoping happens).
Be patient with your body. She just went through a serious surgery and is doing the best she can to heal and repair things, while still focusing on all your other bodily functions.
I did a Live chat with my good friend Sarah Phillipe last month about self-love… here are our notes. This goes over a ton and are all the things I did to get me to where I am today on my self-love journey.
From my own personal experience and after talking to a few women, your breasts after explant will jiggle more. Going over bumps and running are going to feel weird for a couple months. Just something I thought I should mention because it's weird lol
This entire process is an adjustment for your spouse too. At the end of the day he should be supportive and proud of you for taking control of your health. If your breasts are more important to him than your health, he's not the one for you. I unapologetically feel this way. Being with a man who only cares about your looks is not healthy… I hope you understand this.
Showing your husband your new breasts, especially if you had implants before you two met, is going to be uncomfortable at first. "What is he honestly thinking?" But just rock it! Own it. Show him the real you that is happy with her decision and not shaken by the looks of your new breasts (even if you are a little bit). I'm telling you, he's going to find that quality about you so sexy.
I'm the type of person who's like "look at these and get used to them. I'm proud of myself and happy with my itty bittys… and you're going to be too, darn it."  😂 I've always made things funny or lighthearted in situations like this. What are you going to do anyways? You can't change anything. Might as well embrace it.
You have two choices – let it affect you and your relationship negatively or just have fun and laugh at it all. I choose to make the best of any situation, even if it's not a good one to be in. I'm always joking about my small boobies. You'll still find me looking down and saying "damn, that happened so fast! Where'd they go!?"
Knock your husbands socks off and show him that you're a confident, powerful women and your breast size will not take that away from you or the relationship!
You're a brave, beautiful woman and I'm so very proud of you!
❤︎ Christina Roulund-Dennis
If you're on Facebook join my Group, Breast Implant Illness Rejuvenation and Education With Christina
Not on Facebook? Find me on Instagram!