Healthy Alternative Carrot Cake!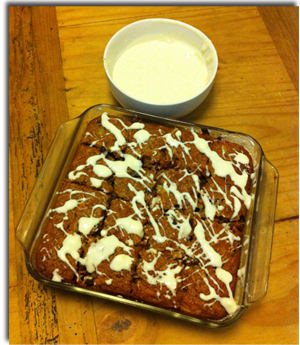 PREPARATION: Pre-heat oven to 350 degrees and prepare a 9×9 square pan for baking.
INGREDIENTS: I used all-natural or organic as much as I could myself when preparing this recipe.
1 cup 100% whole wheat flour
1/2 cup vanilla whey protein powder (or unflavored)
2 tsp baking powder
1 & 1/2 tsp baking soda
1 tbsp ground cinnamon
4 eggs: 2 whole eggs, 2 eggwhites
1 small fully cooked sweet potato
1 cup organic unsweetened applesauce
1 cup Stevia
 1 & 1/2 cups fresh shredded carrots
1 cup organic raisins
1 can of crushed pineapple, drained (8 oz)
1 cup chopped walnuts
1 cup flaked coconut
DIRECTIONS:
In a large bowl, combine the following: whole wheat flour, vanilla whey protein, baking soda, baking powder, and cinnamon. Set aside for now.
In another large bowl, combine cooked sweet potato, applesauce, egg whites and whole eggs, and Stevia. Mix with an electric mixer or whip fast by hand.
Combine whole wheat flour mixture to the wet mixture, beating in little by little.
Stir in the raisins, shredded carrots, flaked coconut, crushed pineapple, and chopped walnuts.
After mixing thoroughly, spread into your 9 x 9 pan. Bake in 350 degree oven for 40 minutes, and allow to cool for 15 minutes.
NUTRITION INFORMATION:
Note: This information is specific to the ingredients I listed. If you deviate from this recipe, nutrition information can vary.