Questions To Ask At Your Explant Consultation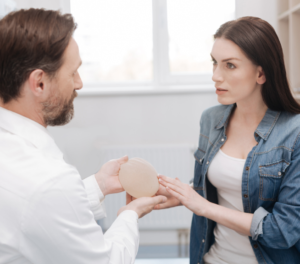 Finding a skilled surgeon is very important. One of the most important things you can do is take your time and interview your surgeon(s). Feel them out, ask for testimonials or photos and be sure they remove your implants en Bloc with a total capsulectomy.
This basically means that they remove the implant and the capsule (the red stuff that you see attached to implants when they're removed) together in one piece. They don't take the implant out FIRST, then go back in and remove the capsule or drain your saline implant FIRST then go back in to remove the capsule. Everything is done in one step: removal of both the implant and capsule at the same time. A total capsulectomy is when AFTER they remove the implant en Bloc, they then go back in to remove any scar tissue or capsule that may be stuck on your muscle, tissue or ribs.
If your surgeon does not do en Bloc, doesn't recommend en Bloc, doesn't find it necessary or anything in between, he/she is not your surgeon. Keep looking.
Your procedure should look something like this:
anesthesia
en Bloc procedure
muscle repair (if needed)
total capsulectomy
*some surgeons wash you out with an antibiotic solution before closing you up to ensure anything they missed gets destroyed
*some surgeons also have someone record the surgery for peace of mind
If they are double board certified, a micro-surgeon and offer muscle repair, Nerve Bloc, photos and videos that's an added bonus!
Here are the most important questions to ask your surgeon at your explant consultation:
Be sure to print this out, highlight the ones that are most important to you (probably all of them) and bring a piece of paper and pen to take notes. Let him/her know you mean business 💪🏼
* If there is a consultation question with a star (*) by it, you'll find details below as to why it's an important question. 
About the surgeon and facility:
Are you a Board Certified Plastic Surgeon?
*Do you have hospital privileges? They should.
Do you carry Medical Malpractice Insurance? Why not, if they say no.
Do you work with insurance? Will you provide me any letters that are required so that I can go through insurance and/or request a refund?
Can I see the pre-surgery paperwork that you require me to sign? Should not be a problem.
Do you have any photos or testimonials I can take a look at? They should.
*Question 2. You want to be sure that your surgeon has hospital privileges because if they don't this is a red flag. Having hospital privileges means this – they are in good standing in the medical community, they are trained and certified in plastic surgery, and should you have a complication, reaction or infection after surgery they can get you entry into the hospital fast. If they do NOT have hospital privileges it could mean that they had malpractice issues and are not in good standing with the medical community. Not only that, should you run into a serious health issue, they can not provide you with any hospital entry service. A surgeon who does not have this privilege can not help you in medical emergency situations.
About the procedure:
How many

proper

explants (en Bloc with total capsulectomy) have you done, approximately? Should be more than 50.
*Do you remove implants en Bloc? Should be "yes". Why not, if they say no.
Do you do muscle repair if needed? Should be "yes". Why not, if they say no.
*Do you do a total capsulectomy? Should be "yes". Why not, if they say no.
Do you use any kind of IV antibiotics when I'm under or wash me with an antibacterial solution?
Are the stitches dissolvable or will they have to be removed later? Make sure they are not using permanent staples or any mesh… nothing foreign in your body.
*Do you or someone else offer photos and/or a recording of my en Bloc being performed and to see that a total capsulectomy was performed and nothing was left behind?
*Do you offer Nerve Block (which is typically optional/an upsell)?
What kind of anesthetic is used during my surgery?
*Is anything added in with the anesthetic?
Will my anesthesiologist be by my side for the entire surgery? They should be.
Will I receive antibiotics during surgery? If so, what kind?
Where are my incisions going to be?
Do you use drains? How long do they usually stay in?
If my implants aren't ruptured, do I get them back if I want them? If so, make sure they are put in a container.
What kind of prescription medication do you prescribe? Are any of them optional to take? Should be a pain pill, antiobiotic and anti-nausea.
I'm allergic or sensitive to ______________, what else can I take?
*Question 2 and 4: When asking the questions about en Bloc and total capsulectomy you want to make sure they DO these two things, with no hesitation. Heres why: some surgeons will opt to deflate the saline from your implants FIRST, then remove the capsule (if they remove the capsule at all – which they should). You do NOT want them to release anything from inside your implant into your bloodstream while it's still inside of your body. Doing so will cause the toxins and contaminants from inside of the breast implant (mold, bacteria, fungus, microorganisms, etc.) to get into your bloodstream causing an entirely new host of serious Symptoms and Side Effects. Be sure it's done en Bloc aka the implant and capsule come out together in one piece, as a whole. A total capsulectomy is important because there could be scar tissue, capsule or silicone stuck to your tissue, muscle or ribs. If you want to fully heal, all this must be released and removed. They'll either do this by peeling it off, scraping it off or cauterizing it out.
*Question 7: Opting for a video is good for one big reason: it gives you peace of mind to know that your procedure is en Bloc with a capsulectomy. Be sure you're very specific as to what You'd like them to capture on video. I recommend that they:
show you on the table as they're getting to your implant
doing the en Bloc procedure, cutting the capsule away from your tissue (on both sides)
removing the capsule en Bloc from your body, in one piece (on both sides)
going back in to perform a capsulectomy, scraping off anything that stuck
show your implants, en Bloc, on the table while they are cutting away the capsule to show what's inside (both implants)
I wouldn't worry about seeing them sew you up, or anything.
*Question 8: Nerve Block is something I had during my explant surgery. Essentially, while you're still under your surgeon will apply Nerve Block to specific nerves in your chest to help alleviate pain for up to three days. This is an upsell, although some surgeons don't offer this at all. I was glad to pay an extra money and get it to ensure I was comfortable post-explant.
*Questions 1o: As far as anesthesia and nitrous oxide goes, if you have the MTHFR gene mutation just be aware that N.O. depletes vitamin B12. So should you happen to have to get it, get your B12 levels checked and take the proper steps of action afterwards.
In regards to lymphnodes and pathology:
Do you check to make sure no silicone traveled to my lymphnodes? Do you do any techniques or lymphnode removal should something look wrong?
Do you send my capsule and implants to pathology if you see anything suspicious? If so, is this an additional cost? If so, how much?
Do you swab out my chest pocket and auxiliary area during surgery to check for biofilm, bacteria or micro-organisms?
Before you finish, do you use a solution to clean out my chest pocket and auxiliary area?
In regards to BIA-ALCL – do you do pathology? Are you knowledgable with ALCL? If you see that I have a seroma/effusion, will you aspartate it and send the capsules for CD30 Immuno'histo'chemistry (one word) to rule out BIA-ALCL?
Don't assume that your surgeon will automatically send off anything to pathology. I left it up to my surgeon as to whether or not he felt it warranted going to pathology. I completely trust him and his decision (plus I got a video). For you, you might demand it to be sent, or you can totally opt out. It's entirely up to you. Now if your surgeon offers it at no extra charge and includes it with the surgery, go for it. Why not?
If you do plan to get a lawyer involved, be sure that your implants are not washed off after surgery. It's best to have them put in separate containers (not bags) marked LEFT BREAST and RIGHT BREAST. From there it's best to place them in plastic bags when you get home and place them in the fridge. Do not handle your implants, open the container or wash them. 
Because each surgeon has different protocols, these are good to ask to see about their post-op care:
Do you have a sheet that goes over pre and post surgery care as far as supplements, medications, compression garments, wound care and who to contact post-surgery if I have a question or concern? They should.
At my first follow up appointment post-explant, will you provide me with my complete operative reports, any tests you sent off for and photos? They should. If not, when?
How long does it typically take to heal fully?
How long until I can lift light things like bowls, my baby, etc.?
How long until I can raise my arms up over my head to brush my hair, put on a top or wash my hair?
How long until I can lift weights at the gym or exercise?
Do you believe in/are you familiar with how to detox post-explant? Do you offer tests or supplements to help with this?
What are signs of an infection that I can look out for? What are signs of a hematoma or seroma? Who do I contact should this occur – the office or you directly?
Do you like to air out incisions after a week or two, or do you prefer I keep tape on them for the first few weeks, replacing the tape every three days?
At what point do I start massaging my breasts, upper chest area and armpits? What do you recommend I massage them with – coconut oil, CBD oil, Vitamin E, etc.?
About when can I wear a sports bra, more comfortable bra, real bra and/or go braless?
How much is the deposit is to secure my surgery date? Should I need to cancel or postpone, how does that work with the deposit?
For the most part, that's it!
Now you know what to ask and why! You feel more confident and prepared to go in now, don't you!?
The above questions were collected from my own questions, the questions my members had and then polished from this resource.
–
Stay closely connected with me and women just like you inside my Facebook Group!  My mission is to empower, educate, encourage and support all members from their journey with Breast Implant Illness – Explant to Full Recovery
Not on Facebook? JOIN ME ON INSTAGRAM!
♥️ here's to newfound health and massive self-love,
– Christina Dennis