Three Products that Help Minimize the Appearance of Scars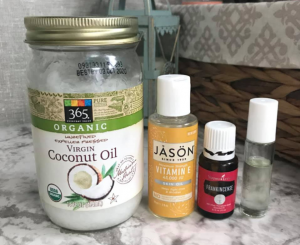 Let's chat natural products to help minimize the appearance of your scars.
After surgery I see a lot of women ask "what is the best thing to use on your incisions to help minimize the appearance of scars?"
For the first 4-6 weeks it's recommended to only use Coconut Oil on your incisions. At about 6-8 weeks post-op you can apply the following…
🌙 Four Things You Need:
1. Unrefined Organic Coconut Oil
2. Jason Vitamin E 45,000 IU
3. Frankincense essential oil
4. Small glass vile
The above are Amazon Affiliate links and should only cost you around $25 (excluding the essential oil) and last you roughly a month.
🌙 Directions:
Holding the glass vile, fill it up 3/4 with Vitamin E and 1/4 with Frankincense Essential Oil.
The Coconut Oil is something you'll dab your fingers in and smooth on your incisions after you lather your incision with the Vitamin E & Essential Oil potion.
The Coconut Oil helps penetrate the Vitamin E & Essential Oil deeper and spread more evenly into your incision while acting as an antibacterial.
* You can use liquid Coconut Oil if you'd like! Here you'll do 50% Vitamin E, 25% Essential Oil, and 25% liquid Coconut Oil.
🌙 How To:
Apply/Massage this blend into your incision in the morning and again at night for a few minutes each breast.
While you're topless you'll also want to massage your entire chest (up to your collar bone, over to your armpits and down below your breast crease) with just Coconut Oil (or any massage oil/lotion of your choice) for 10 minutes twice a day, as well.
:
Here is a huge list of my favorite essential oils to help you heal mind and body!
:
I share a ton of information just like this inside of my Breast Implant Illness Support Facebook Group
If you're not on Facebook – that's ok. I share just as much on my Instagram account
:
here's to self-love, health and high vibes,
Christina Roulund
Founder of the Size: Happy movement