About The Size: Happy Membership Area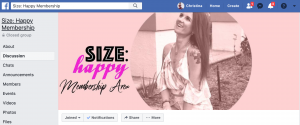 Size: Happy
Mind & Body Membership Area
For those of you just getting to know me, hello!
My name is Christina and I am the Founder of "Size: Happy"
Although you might not be able to tell just by looking at me, I struggled with my weight (both over and under weight), health (largely due to my breast implants), body image, confidence, relationship with food and full blown binge-eating disorder for well over a decade.
I am on the other side of all that now (thank you, Universe) and am so in love with my body and life. I want to share with you EVERYTHING I did (and also what to avoid) that got me to this loving, grateful, forgiving and healthy space. 
✨
Topics I'll be covering in depth in the Membership Area include (but aren't limited to):
•

reframing your thoughts through powerful, transformative affirmations
• forgiveness and letting go (after this, things shift fast!)
• stress management (everybody needs more of this)
• setting firm, loving boundaries
• binge-eating disorder & emotional eating (why are you turning to food?)
• addressing any "negative" emotions, feelings & thoughts
• identity all your triggers and discovering why they trigger you
• nutrition and supplements
• toxins and detoxification
•

self-love (this isn't just manicures and massages)
• confidence (it has nothing to do with your looks or what you're wearing)
• loving and accepting your body 
• healing on all levels (one of my favorite things to both learn about and teach)
Inside the Size: Happy Membership Area right now:
–

14 Flat Belly Challenge videos that will help you strengthen your core and flatten your tummy (with vocal instructions so you know you're doing them correctly)
– 8 lower body glute focused videos that will help you lift, firm and shape your glutes (with vocal instructions so you know you're doing them correctly)
–
Armpit Detox video using only three ingredients that will help pull out heavy metals and impurities. Everyone swears by this!
–
Live Trainings on: how to overcome binge and emotional eating and what confidence really is and how to keep it after the makeup comes off. Next months training will be on toxins and detoxification! 
– * 17 Days of Radical Self Love (18 page guide) > show your soul some love. Don't allow "I'm busy" to be your excuse anymore.
– * Five Day Fresh Start (16 page detox guide) > this guide goes over the most common toxins, where they're found, how to avoid them, how to eliminate them from your body and environment + a meal plan to help give your body a fresh start and a juicing guide!
– * Top Notch Booty: Nutrition Edition (27 page guide) > this guide compliments the 8 lower body videos I mentioned above & includes everything you need to know about macros and nutrition! Whether you're wanting to lose weight or put on muscle, there is a phase for you in the guide to follow so that you easily achieve your fitness goals!
– *
Daily Journal Entry  > designed to help you stay on track with your goals, health and end each day in pure gratitude
– *
24 Size: Happy Assignments > chose one assignment to do each week that'll help you boost your confidence, cleanse your mind/body/environment or fit in more self-love
*

download, print out and place in your Size: Happy folder
–
Information about Dry Brushing, Hyrdro therapy, and Rebounding > these three simple techniques will keep your lymphatic system healthy and your immune strong!
… everything mentioned above is ready for you to read, listen to, print out and workout to!
I poooooour my soul, energy and time into this membership area each month with the intention of transforming you into your most confident, healthiest, happiest self!
Everything mentioned in the Membership Area is done on an individual basis, at your own pace, from the privacy of your home.
Content You Can Expect From Me Each Month:
–
weekly 

affirmations

 to help reframe your thoughts and open the door so that you attract and receive all the fun things you want out of life. #IDeserveEverythingIWant
–

Weekly Size: Happy "Assignments"

designed for growth, confidence and cleansing your mind, body and sacred space. Things like "unfollowing accounts on social media… saging your house to remove negative energy… and cleaning out your closet to make space for clothes that make you feel like JLo". #InWithTheNew
– new

book

 that we'll be reading together so that we all up-level, open our mind and heart, and vibe higher as a group! #BookClub
–

EFT (emotional freedom technique) sessions

(done with me and guest experts) to help you tap your way out of anxiety, fear and pain and into love, radiant health, & confidence. #HelloAdventure
–

full-body exercises

 to get your blood pumping and your joints loosened, all while keeping your cardiovascular system, muscles & bones strong. You might even lose up to 10 pounds! #FeelingFine
–

Journaling prompts

that will get you manifest whatever you desire FAST. The way you write out what you want is SO important and has been proven to attract whatever you call in faster. This is where I see most people go wrong… #ActAsThough
–

Guided visualizations and meditations

to calm the mind, slow down the nervous system and breathing and get key answers from your higher self. #BlissedOut 
–

Live Video Trainings

 with me (depending on the theme of the month) on everything from:
how to set firm boundaries without feeling like a bitch

manifestation do's and don'ts

gain confidence without losing your friends

forgiveness of your self and others

self-love without feeling selfish

health & fitness tips that'll get you quick results safely (I'm an NASM certified personal trainer)

nutrition hacks for anti-aging and healing the body

toxins to avoid (and why) and my favorite detox protocols (including bath soaks and body masks)… coming May 2019
______ ⭐️ This is a mind/body program ⭐️ ______
If you were to stick self-love, confidence, energetics (the influence your energy and vibration has on your life, health and success), positive thoughts, bliss, manifestation, healing vibes and a bunch of detoxification methods together in a blender, this is what the program would taste like.
Since becoming a certified personal trainer in 2008 and an online health & fitness coach in 2012, I notice that most women focus the majority of their attention on their body, shape, appearance and weight ~ neglecting their mindset, thoughts, intuition and triggers.
I've also recognized (without judgement) from my own personal battles with binge-eating disorder & Breast Implant Illness that lack of self-love, self-respect, self-worth, confidence and boundaries

were at the root of both of those things.
I used to use food as my therapy, escape and drug… I got breast implants because I thought they'd make me feel whole, prettier, more confident and make my life easier.
We all know how this chapter ends and where I'm at now with all of this 🙌🏼🥂💫
It is my intention and hope, as the months go on, you'll begin to feel:
✔️excited to wake up each day knowing you're in control and empowered
✔️more radiant, bubbly and happier – and your loved ones will notice too
✔️healthier, lighter and more flexible – mentally, emotionally and physically
✔️energetic shifts brought on by the mediation, visualization, journaling and tapping exercises we do
 ✔️increasingly more confident with your self, your body, in your relationship and where you're heading
✔️empowered to make the necessary changes to live an abundant life, full of joy, laughter and new adventures
✔️stronger, charged and aligned in every sense of the word!
• If you know in your gut that you could be happier and healthier in any and all areas of life – and you want to be…
• If you would love to feel incredibly confident and get to a place of fully loving and appreciating your body…
• If you wake up each day knowing in your heart that you aren't living up to the potential you know you're capable of…
• If you have big goals and dreams that you'd like to start and accomplish, but feel too overwhelmed, busy or uncertain of how to get them started…
• If you feel like you're repeating the same unhealthy cycles with people, food, habits and negative thoughts year after year…
"Size: Happy" Membership Area Is Created For You!
This Membership is perfect for those who are seeking an uplifting and high vibe support system, guidance and know that its more than just food and supplements that are required to heal the body, mind and soul.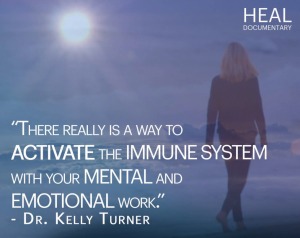 An expert in the Netflix documentary "HEAL" recently claimed that she asked a group of cancer patients what they did to go into remission. Here were their answers:
Radical changing your diet.

Taking control of your health.

Following your intuition.

Using herbs and supplements.

Releasing suppressed emotions.

Increasing positive emotions.

Embracing social support.

Deepening your spiritual connection.

Have a strong reason for living.
I'm going to go in depth with each one of these, how I interpret it, in my Membership Area.
Healing isn't just about food and supplements.
As you can see above, only two of the points list something physical – numbers one and four
Everything else is energy shifts, mindset work, connection and the power of thoughts, belief and your "why".
Negative, disempowering thoughts must be reframed and reprogrammed to more loving ones.

Energy needs to be cleansed, purified and brought back into harmony often.

The physical body needs the right tools to vibrate in a loving and healing frequency 24/7. #528hz

Trapped suppressed emotions need to be released and removed from your energy field/body in order to relieve physical symptoms.

Having a support system, commUNITY, and being surrounded with nothing but like-minded women is powerful and can move mountains fast.

Trusting in your gut instincts will never lead you wrong.

Deepening and strengthening your faith, even after all the trauma you've been through, is necessary.
After decades of "struggles", I now see my own strength, life purpose and mission before me.
Healing women has always been at the core of everything I've ever done
–
whether it be through fitness and health coaching, binge and emotional eating recovery coaching or walking into my role as a Breast Implants Illness leader & educator.
If you're still reading this far, you're ready sister!
It would be my honor to have you, help you transform your health, relationships (with your body, self and spouse) and life + get you to the point where you can confidently teach this information with those closest to you so that all of mankind evolves, shines brighter and vibrates higher.
$22 / month gets you access to all of the videos and guides uploaded in the Group right now + all monthly content that will be uploaded each month!
This is a fraction of the cost I charge for even just the monthly exercises you'll be receiving
. It's as though everything else is an added bonus!